Cyara Automated CX Assurance Platform
Accelerate CX Testing & Increase Quality across Digital & Voice Channels
80


Reduction in Testing Time
Cyara users experience improvements in speed, quality, and efficiency.
Assure Better Customer Experiences, at Scale
End-to-End CX Automation
The Cyara Platform is the only automated CX assurance solution that offers full visibility and control over your entire customer experience on every channel, from the pre-production visualization of IVR and chatbot customer journeys, to post-production and live voice quality monitoring.
FLAWLESS CX ASSURANCE
Cyara generates simulated customer traffic to give you an outside-in view of how your contact center systems perform during real-world interactions, Ensure journeys on every channel are operating flawlessly, from IVR and agent routing to chatbots, SMS, email, and more.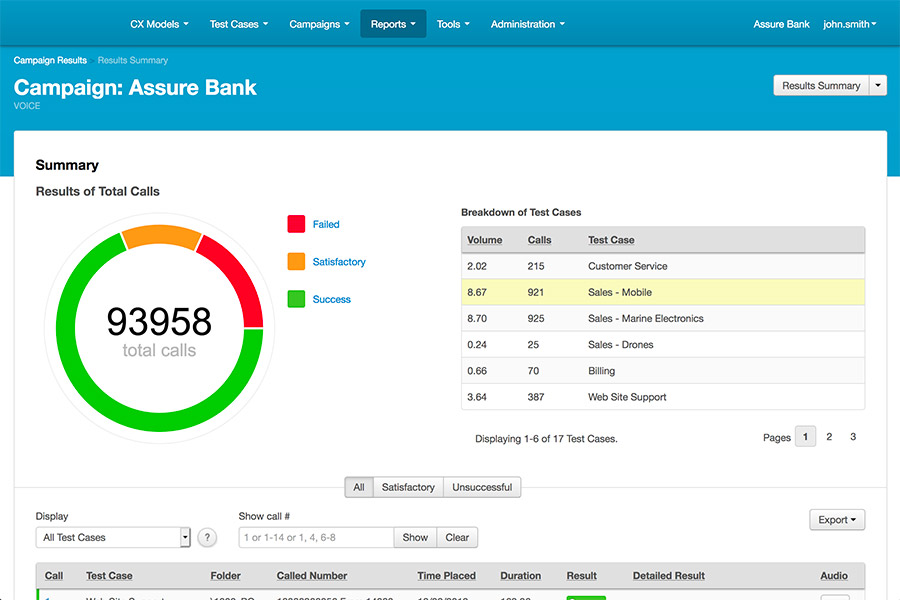 EASY-TO-USE AUTOMATION
Increase CX quality by maximizing automation around testing and monitoring, including automated discovery of your current CX, as well as automated test script creation and maintenance, through a user-friendly interface. No coding required!
Call Routing & Agent Desktop Testing
Global In-Country Dialing
Deliver Flawless CX throughout Every Customer Interaction
Cyara Velocity
Connect the CX development lifecycle (waterfall, DevOps, or Agile), from design through functional and regression testing, and rapidly innovate your CX while assuring quality.
Resources
Take 20 minutes to learn how the Cyara Automated CX Assurance Platform accelerates CX testing, increases quality across digital and voice channels, and assures omnichannel customer journeys end-to-end this on-demand demo from one of our CX experts.
Accelerate customer experience testing, increase quality across digital and voice channels, and assure omnichannel customer journeys end-to-end with the Cyara Automated CX Assurance Platform.
Learn more about the Cyara Platform and how we can help ensure you are the first to know about issues with your customer experience.
Learn More
See how the Cyara Automated Customer Experience Platform can help you achieve your CX Assurance goals, and delight your customers.